Are you doing any of these?

Manually removing people who unsubscribed?
Have you been collecting name cards? Having to remove the bounced emails from your list?
Wondering how many people opened or clicked on your email?
You shouldn't have to - Technology can do these for you - quickly, easily and at a low cost.

Sending marketing emails from Gmail, Yahoo, Hotmail or Outlook?

There's a limit to the number of emails that you can send

Gmail limits 500 outgoing messages per day
Hotmail limits 300 outgoing messages per day
Yahoo limits 500 outgoing messages messages per day
Limit for shared hosting plans - low outgoing email limits depending on the service provider.
AND you risk getting your account disabled for exceeding usage limits.
Setting up your own email marketing platform
What do you need to set up your own email marketing platform? Just a few things:
An email marketing software
A domain to use to send your marketing emails
A good hosting plan that will support your email activities, and works well with your email software
Skills to install and maintain the system, ensuring that it remains online and working 24/7
Diligence to ensure that your emails get through to your targets' inboxes, without being blocked or labelled as spam
OR...
DBMarketer - The complete email marketing solution
We provide all components for an effective email marketing system - software, domain, hosting, maintenance and support.
DBMarketer is a hosted self-service email marketing solution, with the full range of features to enable fine-grained control over every aspect of your email marketing campaign.
Take charge of your campaign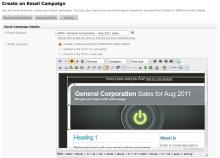 Our hosted solution allows you to set up an email marketing campaign in minutes. Control and monitor your email marketing campaign round-the-clock.
Full-serviced, hosted system - control your campaign anytime, anywhere.
Automated email broadcasts, tracking (opens, click-throughs, etc.) and report generation.
EDM (Electronic Direct Mail) platform provided - Design your own an EDM using our WYSIWYG platform without knowing HTML.
Choose from more than 100 EDM templates
No limit on number of email records or broadcasts
Advanced functions include:

Spam scoring - measures likelihood of your email going into a recipient's spam box.
Split-testing - find the email format which gives you the highest response rate.
Live monitoring of response statistics.
Click the button below to find out about our prices and to subscribe now - an account will be setup for you within minutes of payment.
Or view a demo.
ASK
for your free demo account now.
Get data insurance with
DBInsurance